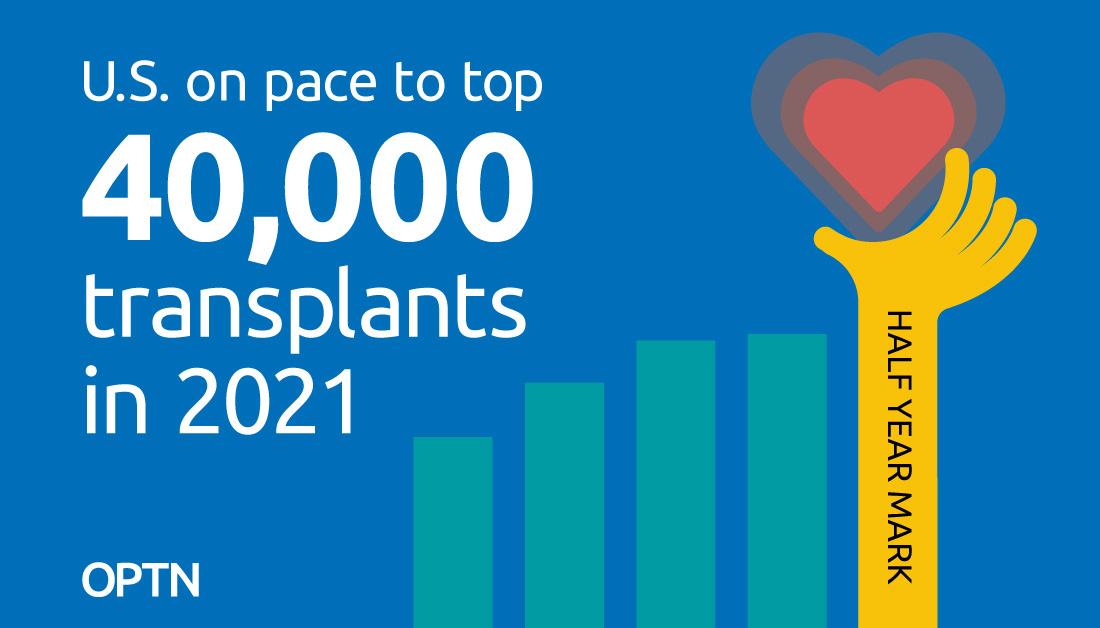 In just the first half of 2021, 21,061 organ transplants have been performed in the U.S. according to Organ Procurement and Transplantation Network data.
Organ donation from deceased donors is up 15% over last year. There were 900 more deceased donors – people who provided one or more organs to save and enhance the lives of others -- between January 1 and June 30 of 2021 than there were during the same period in 2020. The drop in donors caused by the pandemic beginning in the middle of March last year was offset enough by high numbers early in the year that there were still 242 more donors in the first half of 2020 than in the first half of 2019.
Organ transplants from deceased donors are also up -- by 11%. A total of 17,821 deceased donor transplants were performed in the U.S. in the first half of 2021 compared to 15,933 in the first six months of last year.
"This significant increase in donation and transplantation as we continue to fight COVID as a nation is a bright spot that inspires hope. At the same time it's not enough because so many patients continue to wait. We must renew our commitment to work together to improve the best transplant system in the world by continuing to innovate and promote donation," said Matthew Cooper, M.D., president of the OPTN Board of Directors. "In doing so we honor the gift of every donor and donor family whose lifesaving decisions make transplantation possible."
While transplants from living donors increased in the first half of 2021 compared to the first half of 2020, the number is still below 2019 pre-COVID levels. The 3,240 living donor transplants performed through June 2021 is 11% lower than the 3,638 performed during the same portion of 2019. In the first half of 2020, 2,519 living donor transplants were performed.
As of this morning 106,664 men, women and children are on the waiting list for a transplant, which is the lowest it has been since 2009. The waiting list topped 124,000 at its height in 2014.    
"Every one of us has the potential to save multiple lives by registering to be an organ, tissue and eye donor," Cooper said.