OPTN initiative focuses on performance improvement through coaching and peer mentoring of member organizations
Published on: Friday, November 4, 2022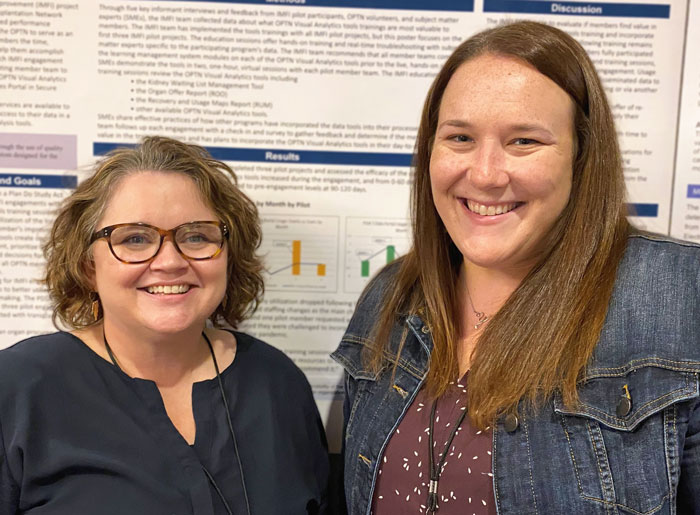 — Quality coordinator Heather Marshall (left), with OPTN performance improvement specialist Amanda Young at the 2022 Transplant Quality Institute.
An Organ Procurement and Transplantation Network (OPTN) transplant hospital member, Ascension Saint Thomas Hospital West in Nashville, Tenn., recently participated in a pilot of an OPTN improvement initiative in order to increase efficiencies in their kidney post-transplant processes and care. Individual Member-Focused Improvement (IMFI) is now a fully implemented OPTN quality improvement program and available to all OPTN member organizations.
As the central hub of the donation and transplant community, the OPTN designed IMFI to support donation and transplant professionals and their programs by facilitating custom improvement engagements. By participating in IMFI, OPTN member organizations like Ascension Saint Thomas Hospital West are able to refine and optimize their quality processes through coaching and individualized improvement plans.
A time of growth can be an opportunity for improvement
A community-based hospital in Nashville, Tenn., Ascension Saint Thomas Hospital West is part of Saint Thomas Health, which is a member of Ascension Health, the largest not-for-profit health system in the U.S. Their kidney transplant program recently experienced a period of rapid growth – in only a few short years, their kidney program went from 50 transplants in 2017 to 152 transplants in 2020.*
"There can be growing pains when you grow that fast, but it motivates you to improve your processes and hardwire them into place so that patients get the transplants they need," explains Heather Marshall, the quality coordinator for Ascension Saint Thomas Hospital West's kidney program.
Ascension Saint Thomas Hospital West recognized an opportunity to develop a proactive improvement project focused on increasing efficiencies in their kidney post-transplant processes and care. They contacted the IMFI team's performance improvement specialists, who regularly work with members to support quality and performance improvement (QAPI) projects, consult closely with members to design and build their improvement plans, which vary in scope depending on need. Some of the improvement activities offered in an IMFI engagement may include Data Portal education and training sessions on the OPTN Visual Analytics tools, collaborative process mapping sessions, and peer mentoring.
Championing a culture of focused quality improvement
IMFI, and the QAPI consult support services it offers, aligns with recommendations from the National Academies of Sciences, Engineering and Medicine (NASEM), which recently produced a report on equity in the organ transplantation system that encouraged peer-to-peer sharing and transparency in sharing successes and failures as part of progress. NASEM recommends embedding continuous quality improvement efforts across the fabric of the U.S. organ transplantation system, and the OPTN IMFI program is available to assist OPTN members in developing these efforts.
Individualized and focused coaching to improve transplant
Transplant hospitals and organ procurement organizations (OPOs) manage a variety of complex systems and processes as part of their lifesaving work to recover and transplant more organs, and are committed to always refining them in order to save more lives. The OPTN individual member focused improvement (IMFI) program:
Helps individual OPTN members improve practice through the use of quality improvement tools
Delivers custom-designed engagements that fit the OPTN member's unique needs
Provides individualized improvement coaching to OPTN members
Growing into new and stronger waiting list management practices
When a transplant program undergoes growth like Ascension Saint Thomas Hospital West's, there is an opportunity to closely examine internal processes and structures and make adjustments if needed. Rapidly increasing a program's kidney waiting list from fewer than 100 to more than 250 waitlist candidates, as Ascension Saint Thomas Hospital West's did, can impact staffing needs and a range of workflows such as communications and lab processes.
Waitlist management is vitally important especially when a program grows. Marshall explains that their team wants to concentrate on their patients by making sure they are completely ready for transplant in terms of current labs and other health data. They also wants to make sure they are effectively leaning in to data and research analytic tools in ways that help them understand their data, make better decisions, accept more organ offers and improve patient outcomes.
"We don't go into transplant because we want to just come to work and leave," says Marshall. "All of us want our patients to thrive so they can live their lives."
Education and peer mentoring key to improvement
Ascension Saint Thomas Hospital West's high-level aim with IMFI was to increase efficiencies in their kidney post-transplant processes and care in an effort to improve their performance outcomes. To support this goal, IMFI performance improvement specialists designed a custom plan based on Ascension Saint Thomas Hospital West's needs.
The plan designed for Ascension Saint Thomas Hospital West had two parts: One part to leverage OPTN technology and data to strengthen evidence-based decision making from waitlist management all the way through to post-transplant, and a second to facilitate peer-mentoring that provides guidance on effective practices in post-transplant care management from their peers in the community. Each component of their plan had specific objectives and goals:
Education and training to empower Ascension Saint Thomas Hospital West to more thoroughly access and utilize their data for evidence-based decision making


The IMFI project team staff provided virtual coaching and training on OPTN computer system resources and tools
Ascension Saint Thomas staff completed education modules in the OPTN learning management system, then underwent hands-on virtual training on a range of data tools in the OPTN Computer System, including the Kidney Waiting List Management Tool, the Recovery and Usage Map (RUM), and the Organ Offers Report (ROO)
The OPTN designed hands-on education sessions for all roles on the transplant team to be familiar with the features and capabilities of the tools, as well as feel empowered to regularly use the tools and reports
Peer mentoring to enable Ascension Saint Thomas Hospital West to receive guidance on opportunities for improvement and effective practices in post-transplant care management from subject matter experts


IMFI staff arranged consultations with a panel of transplant peers to discuss opportunities and advice for improvements across a range of areas
The group developed a plan for improved and more streamlined outpatient management
Additional session goals involved helping Ascension Saint Thomas discuss post-transplant clinical aspects such as protocols for infection prevention
Confronting pain points and consulting with peers on performance improvement
Ascension Saint Thomas Hospital West's peer mentoring group included transplant surgeons and physicians from high-performing programs, an experienced transplant quality specialist, and an OPO director, and the group was impressed with the hospital's engagement and ability to be open and ask questions. Peer-to-peer sharing of successes and failures is how the entire donation and transplant system continues to improve. "It's incredibly helpful to hear how other programs do things, because we're not all the same, and we can all learn from how we do things differently."
Marshall describes the experience as extremely positive: "It's really wonderful to know you're not alone in the boat, and to know that others, who might have experienced something similar, can be honest about what might help."
The peer mentoring validated and reinforced some changes Ascension Saint Thomas Hospital West had already made, in addition to helping them make new ones, says Marshall. Some key changes involved strengthening protocols related to culturing perfusate, and scheduling regular meetings devoted to making sure high-risk patients are ready for transplant.
"This is a dream come true to be part of a program that's on the move and growing - we have a great team."
More about IMFI
IMFI doesn't just provide a list of QAPI ideas. The experience delivers access to a support team that can dedicate time, resources and subject matter expertise to help OPTN members improve processes that the organization controls and can change. An IMFI engagement includes:
A project plan designed around the OPTN member's specific improvement goal
A customized approach. Each IMFI project is unique and will be designed with the individual program or organization's needs in mind
Direct and open collaboration with the IMFI project team, including peers in the donation and transplant community
Email MQFeedback@unos.org to learn more about IMFI. OPTN members will be asked to first answer an intake questionnaire to help assess needs, and then IMFI staff will arrange a phone call to discuss a potential project plan.
---
*According to the most recent data collected by the OPTN.