Data highlights from the first cohort of the OPTN DCD procurement collaborative
Published on: Tuesday, March 15, 2022
Twenty-six of the nation's organ procurement organizations (OPOs) participated in the first cohort of the Organ Procurement and Transplantation Network (OPTN) Donation after Circulatory Death (DCD) Procurement Collaborative project, and OPTN data shows they surpassed their project goals and recovered DCD donors at a higher rate than the rest of the nation.
In the project, participating OPOs from across the country focused improvement efforts across multiple areas, including strengthening relationships with donor hospitals and transplant programs, optimizing clinical practices and staffing structures, and enhancing authorization processes. Increasing the number of DCD donor organs recovered and transplanted through encouragement of collaboration and the development of effective practices.
First cohort surpasses collective aim
Project participants actively engaged in improvement cycles from January-June 2021, and collectively aimed to increase DCD donor procurement by 20 percent by Dec. 31, 2021.
Preliminary data analysis included a comparison of the number of DCD donors recovered and transplanted by participating OPOs to OPOs throughout the rest of the nation.
Among the key highlights:
During 2021, collaborative participants surpassed the collective aim, procuring 34 percent more DCD donors compared to 2020, while the rest of nation saw a 26 percent increase (Figure 1).
Both the cohort and the rest of the nation experienced increases in DCD transplants from 2020-2021, with increases of 24 percent and 17 percent, respectively (Figure 2).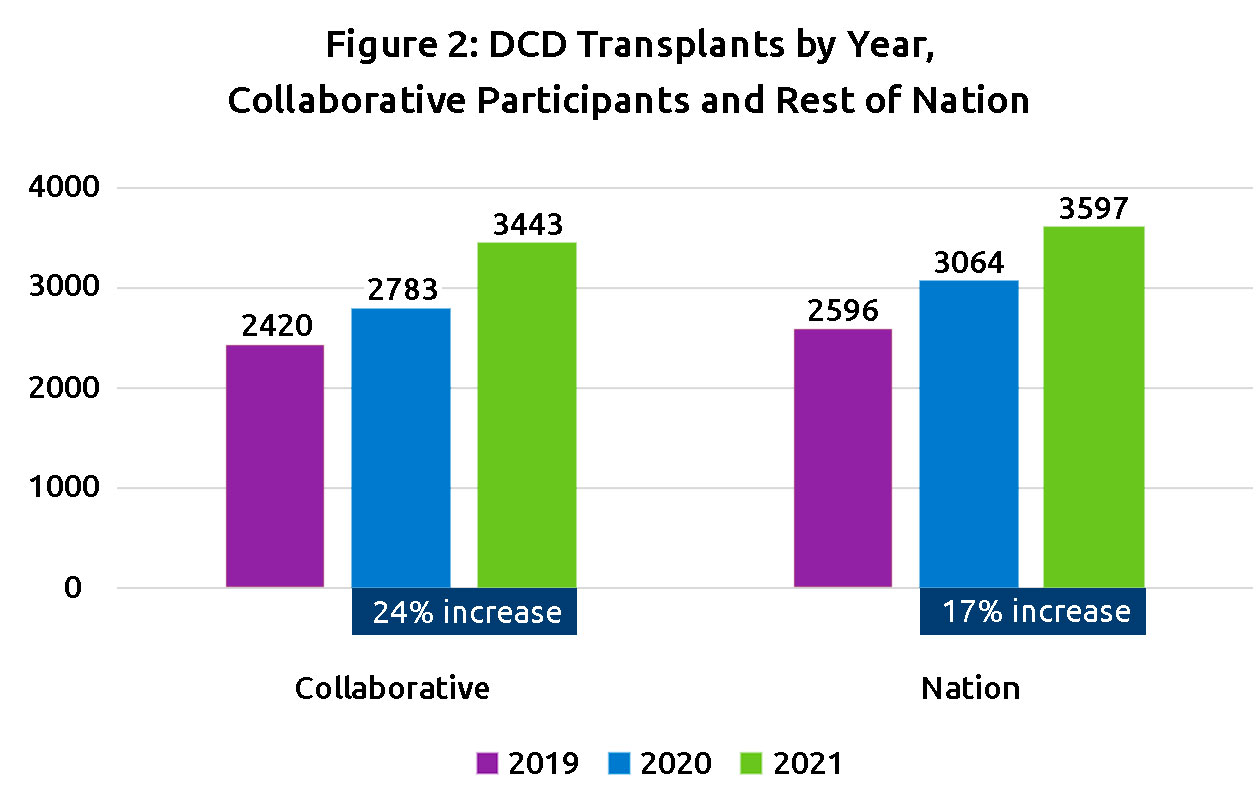 Based on OPTN data as of March 4, 2022. Data subject to change based on future data submission or correction.
Collaborative project continues with second cohort
Thirteen first-cohort OPOs have joined with 17 new OPOs to continue improvement efforts through the project's second cohort, which will conclude in April 2022. Additional data from both cohorts will be evaluated to assess overall project outcomes and effectiveness, with findings to be shared at a later date.
For more information about OPTN collaborative improvement, contact ci@unos.org.