Annual record trend continues for deceased organ donation, deceased donor transplants
Published on: Monday, January 11, 2021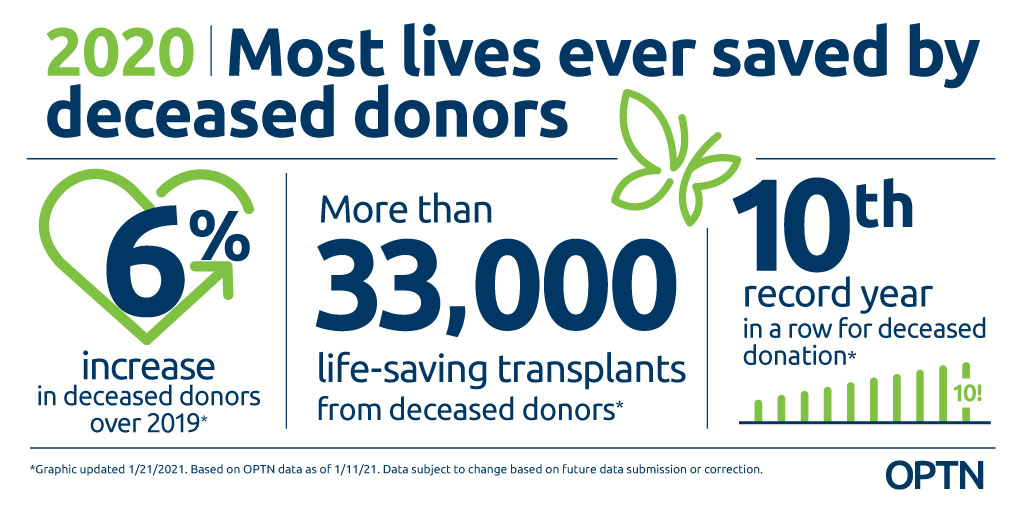 In 2020, for the tenth year in a row, organ donation from deceased donors in the United States set an all-time record. A total of 12,587 people provided one or more organs to save and enhance the lives of others, representing an increase of six percent over 2019, according to preliminary data from the Organ Procurement and Transplantation Network.
Organ transplants from deceased donors, totaling 33,309 in 2020, also set another annual record for the eighth consecutive year. This occurred despite significant adverse effects from the COVID-19 pandemic, where deceased donor transplantation briefly fell by approximately 50 percent in early April before returning to a more consistent baseline in late May.
"Over the past year, the organ donation and transplantation system has been impacted in unprecedented and unimaginable ways," said David Mulligan, M.D., President of the OPTN Board of Directors. "To again set a record for deceased donor transplants shows the amazing resilience of our organ procurement organizations and transplant hospitals. We continue to work together to improve a system that is committed every day to ensure transplants for all those in need. Most importantly, we are all indebted to our donors and donor families for their dedication to save lives."
While the pandemic disproportionally affected healthcare resources in certain parts of the country, deceased donation continued to increase in many areas. In 2020, 38 of the 58 organ procurement organizations nationwide experienced an increase in donation over their 2019 total. (Note: due to a merger of two OPOs effective in January 2021, there are now 57 OPOs in operation.)
Much of the increase in deceased donation was made possible by donors representing less traditional medical criteria. For the second straight year, the most common age range of deceased donors was 50 to 64. The 3,726 donors in this category increased by 7.9 percent over 2019. Donation also increased significantly among individuals who died of cardiorespiratory failure as opposed to brain death; the 3,223 donors after cardiorespiratory death (DCD donors) increased by 18.6 percent over the total in 2019.
The number of living donor transplants performed was affected more significantly by the COVID-19 pandemic. Many transplant programs temporarily deferred living donor transplantation in areas particularly affected by outbreaks of the virus due to concerns of unnecessarily exposing potential living donors and living donor recipients to possible COVID-19 infection. A total of 5,725 living donor transplants were performed in 2020, a decrease of 22.6 percent over the record of 7,397 set in 2019. Living donor transplants since June of 2020 have occurred at rates more similar to pre-pandemic activity.
As a result of the decline in living donor transplantation, an overall total of 39,034 transplants were performed in the United States from both living and deceased donors. This represents the second-highest annual total of overall transplants but is a slight decrease from the record of 39,719 set in 2019.