The OPTN approved a continuous distribution model as a framework for future policy development as it addresses geographic distribution of donated organs. Continuous distribution would, in the future, replace fixed geographic boundaries with a statistical model incorporating distance along with key clinical factors.
The
Ad Hoc Geography Committee
was formed in January 2018 to establish principles and a framework to guide how OPTN policies should address future geographic distribution of organs. The committee was dissolved in December 2018 after fulfilling its charge established by the Board of Directors.
Approved framework
This framework was one of three options considered.
View a document that explains all three proposed frameworks.
(1.3 M PDF; 8/2018)
Continuous distribution
Organs can be distributed to candidates using a statistical formula that combines important clinical factors, such as medical urgency and likelihood of graft survival, along with proximity to the donor location. Using this approach, all candidates would receive a relative distribution score, but there would be no absolute geographic boundary. Candidates who best meet the combination of factors receive the highest priority.
No fixed boundaries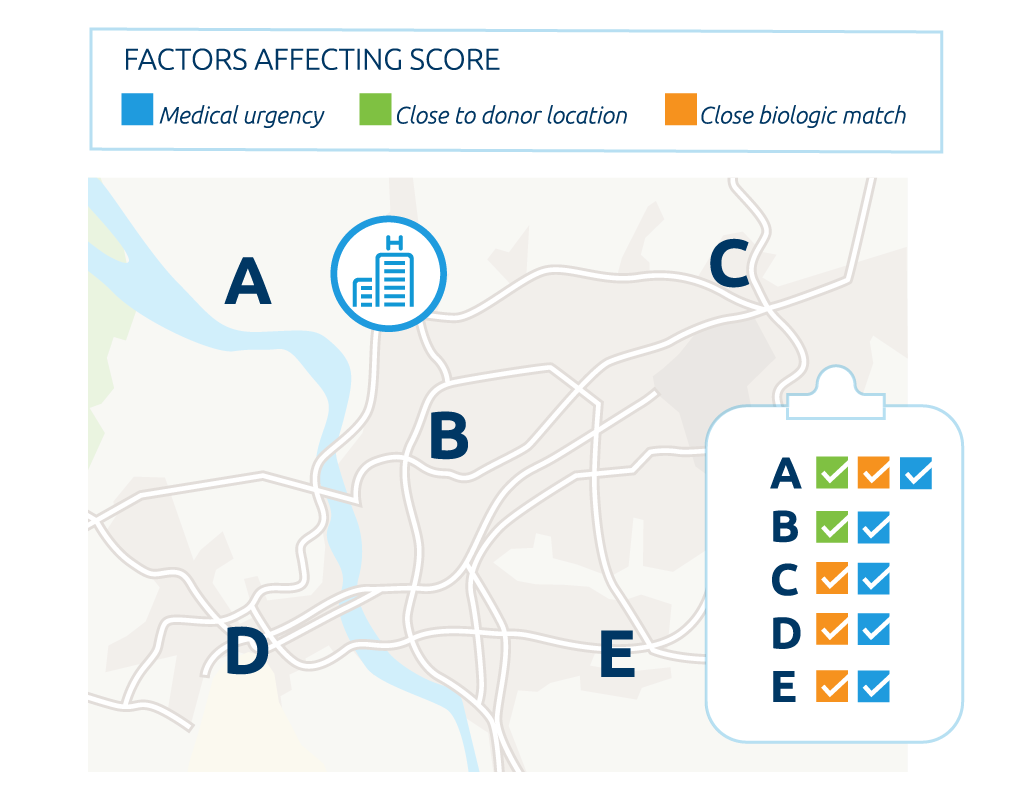 In this example, there are no fixed boundaries between transplant hospitals. The donor hospital is closest to Hospitals A and B, so candidates at those two hospitals receive some points for proximity. Hospitals A, C, D and E all have candidates who are a close biologic match. Hospitals D and E both have candidates with elevated medical urgency, with Hospital D having the most urgent candidate.
Combination of factors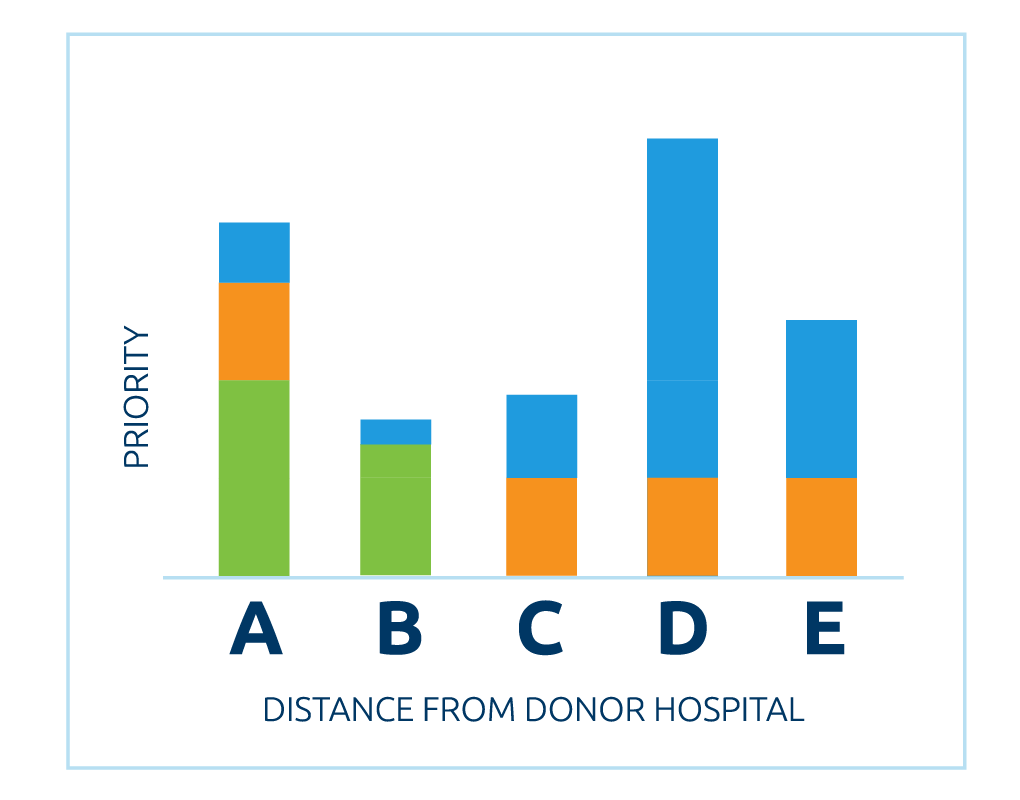 When these various factors are combined, a candidate at Hospital D would appear first on the match. This candidate receives no proximity points but ranks strongly based on medical urgency and biologic compatibility. The candidate appearing next on the match is at Hospital A, with a combination of priority for proximity and biological compatibility. Candidates at the other three hospitals appear lower on the match according to how strongly they match on the combined factors.
Resources
Alexandra Glazier, J.D., M.P.H., President and CEO of New England Donor Services and a member of the Ad Hoc Geography Committee, describes the legal and regulatory history and perspective for organ distribution in the United States, as well as recent legal developments that may influence how current and future organ distribution policy is interpreted.