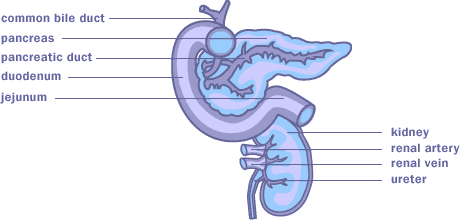 [Description of the kidney and pancreas]
Functions of the Kidney/Pancreas
The kidneys are a pair of reddish-brown organs located on either side of the spine just below the diaphragm, behind the liver and stomach. They are bean-shaped and about 4 and one half inches long, 2 and one half inches wide and 1 inch thick. The primary function of the kidneys is to remove waste from the body through the production of urine. They also help to regulate blood pressure, blood volume, and the chemical (electrolyte) composition of the blood.
Renal failure is the inability of the kidneys to remove wastes and maintain electrolyte balance. Acute renal failure, characterized by inability to produce urine and an accumulation of wastes, is often associated with trauma, burns, acute infection, or obstruction of the urinary tract. Its treatment depends on the cause and often includes antibiotics and reduced fluid intake. Chronic kidney failure, which may occur as a result of many systemic disorders, causes fatigue and sluggishness, diminished urine output, anemia, and often complications of hypertension and congestive heart failure. The treatment depends on the cause, often involving the use of diuretics, restricted protein intake, and, if the kidney failure cannot be otherwise treated, dialysis and/or transplantation.
The pancreas is a 5 to 6 inch gland located behind the stomach; it extends horizontally between the duodenum and the spleen. One function of the pancreas is to produce enzymes that are used for digestion. It also produces insulin, which is essential for life because it regulates the use of blood sugar throughout the body.
Kidney/Pancreas Transplant Procedures
A kidney transplant may involve one or both kidneys if the donor is cadaveric and only one kidney if the donor is living. In most transplants, only one kidney is transplanted. But, in certain circumstances, particularly if the donor is less than ideal, two kidneys may be transplanted. There is also some experimental work being done on splitting kidneys prior to transplanting them, resulting in two recipients per kidney but this is still extremely rare in practice.
A pancreas transplant may involve either the whole pancreas or a pancreas segment. Whole organ transplants are far more common but a segmental transplant is possible. A specific case where this would be done is if a living donor is involved. Many pancreas transplants also involve transplantation of the duodenum.
The kidney is frequently transplanted with the pancreas in the U.S. Many people suffering from pancreas failure also have renal failure. In most cases a kidney-pancreas transplant is performed from a cadaveric donor. But there have been several transplants performed using a living donor, with one kidney and a pancreas segment being donated.
Reasons for Kidney/Pancreas Transplants
Kidney Diagnosis Categories
Kidney Diagnoses
GLOMERULAR DISEASES

Anti-GBM

Chronic Glomerulonephritis: Unspecified

Chronic Glomerulosclerosis: Unspecified

Focal Glomerularsclerosis

Idio/Post-Inf Crescentic Glomerulonephritis

IGA Nephropathy

Hemolytic Uremic Syndrome

Membranous Glomerulonephritis

Mesangio-Capillary 1 Glomerulonephritis

Mesangio-Capillary 2 Glomerulonephritis

Systemic Lupus Erythematosus

Alport's Syndrome

Amyloidosis

Membranous Nephropathy

Goodpasture's Syndrome

Henoch-Schoenlein Purpura

Sickle Cell Anemia

Wegeners Granulomatosis

DIABETES

Diabetes: Type I Insulin Dep/Juvenile Onset

Diabetes: Type II Insulin Dep/Adult Onset

Diabetes: Type I Non-insulin Dep/Juv Onset

Diabetes: Type II Non-insulin Dep/Adult Onset

POLYCYSTIC KIDNEYS

Polycystic Kidneys

HYPERTENSIVE NEPHROSCLEROSIS

Hypertensive Nephrosclerosis

RENOVASCULAR AND OTHER VASCULAR DISEASES

Chronic Nephrosclerosis: Unspecified

Malignant Hypertension

Polyarteritis

Progressive Systemic Sclerosis

Renal Artery Thrombosis

Scleroderma

CONGENITAL, RARE FAMILIAL, AND METABOLIC DISORDERS

Congenital Obstructive Uropathy

Cystinosis

Fabry's Disease

Hypoplasia/Dysplasia/Dysgenesis/Agenesis

Medullary Cystic Disease

Nephrophthisis

Prune Belly Syndrome

TUBULAR AND INTERSTITIAL DISEASES

Acquired Obstructive Nephropathy

Analgesic Nephropathy

Antibiotic-induced Nephritis

Cancer Chemotherapy-Induced Nephritis

Chronic Pyelonephritis/Reflex Nephropathy

Gout

Nephritis

Nephrolithiasis

Oxalate Nephropathy

Radiation Nephritis

Acute Tubular Necrosis

Cortical Necrosis

Cyclosporin Nephrotoxicity

Heroin Nephrotoxicity

Sarcoidosis

Urolithiasis

NEOPLASMS

Incidental Carcinoma

Lymphoma

Myeloma

Renal Cell Carcinoma

Wilms' Tumor

RETRANSPLANT/GRAFT FAILURE

Retransplant/Graft Failure

OTHER

Other Rheumatoid Arthritis

Other Familial Nephropathy

Pancreas Diagnosis
Retransplant/Graft Failure
Diabetes Mellitus - Type I
Diabetes Mellitus - Type II
Diabetes Secondary to Chronic Pancreatitis without pancreatectomy
Diabetes Secondary to Cystic Fibrosis without pancreatectomy
Pancreatic Cancer
Bile duct cancer
Other cancers
Pancreatectomy prior to Pancreas Transplant